I just noticed my Atari 2600 has been gathering dust so that means its time to dust it off and bust out a brand new 2600 Reasons To Play. Grab your flying goggles and wrap your black 8-bit scarf around your neck because we're going to take our lives (and joysticks) into our hands as we perform dangerous aerial stunts. Today, we will be BARNSTORMING!
Barnstorming actually refers to flying circuses from the 1920s where expert pilots would go from town to town putting on stunt shows for the local folks. This was actually a really big deal back in the day and most of the town would turn out of these shows. The pilots would pull off all sorts of crazy death defying stunts like wing walking, wing dancing, trick shooting, and even switching planes in mid-flight.
Barnstorming was also a game made by Activision in 1982 to for the Atari 2600. The object of the game is to… you know what, I think this awesome vintage commercial can some it up better than I can:
Did you get all that? I hope so, because that really is all there is to the game. In Barnstorming you play the role of an ace dare devil pilot who has to fly over windmills and fly through a set number of barns as quickly as they can to the delight of the invisible crowd watching. That's it.
Never has there been a more beautiful video game sunrise
The funny thing is how chilled out a game about death defying flying stunt show really is. If you crash into anything you don't lose a life you simply just bounce back a bit costing you some time. You never actually run out of time, the timer just keeps on ticking with your ultimate goal being the shortest time possible. You can never actually fail at it, you simply end up with a sucky time. This is not really a big deal since Atari Cartridges lacked the tech to record any of your scores or time. Basically you just play for the thrills. Well, that and to scare the hell out of farm life.
GET OUT OF THE WAY COW!!!!
As with almost all Atari games there are different variations on the main game. In this game there are 4 different variations of the same game, each with wonderful nicknames: Hedge Hopper, Crop Duster, Stunt Pilot and Flying Ace. I swear, next time I'm angry at someone I'm going to call them a Hedge Hopper.
In games 1 -3 you fly through ether 10 or 15 barns, each with a fixed course. With game 4 however you need to fly through 25 barns and each time the course would be completely randomized making this one the hardest and yet most fun of all 4 games. Also, by playing with the "Difficulty Switches" on your console you can make the game easier or harder, in this case by raising or lowering the roofs on the barns and increasing the number of geese on the screen. Oh, I haven't explained about the geese yet?
%@$#ing Geese
Since the whole object of the game is to try to get the lowest time possible that means you'll want to go as fast as possible. Makes sense. So you can press down on the joystick's button to activate your throttle and really pick up speed. The only problem is that whenever you hold down that red button it makes these obnoxious white geese appear on the screen. Every time you bump into one of them they make a hilarious Atari bloop and scoot forward a bit and you slow down to a crawl for a moment, thus killing your good time run.
One nice thing is that since this was an Activision game there was actual incentive to get the best score you can. If you can beat a certain time for any of the first three games you should totally take a picture of your screen and mail it to Activision who will enroll you in the Flying Ace Club. This isn't as cool as the Mile High Club to which I belong to, but it does get you an awesome patch you can show off: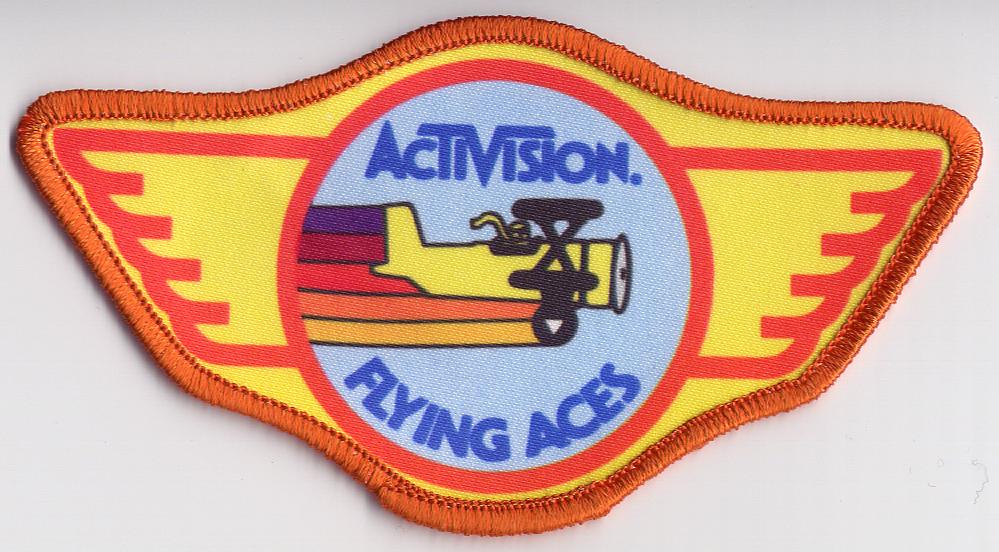 This is pretty sweet
As with many Activision games I've actually been able to fulfill the requirements for that patch but sadly the patch program is long gone. I would love to be able to buy a set of those patches somewhere. How cool would I look walking around a convention wearing those? And by cool, I obviously mean, "not cool."
What else is there to say about Barnstorming? Its a simple game for a simpler time. You'd never be able to get away with such repetitive and simple gameplay nowadays, unless of course, you're an MMO, then click away my friends, click away. However back when this game came out no one saw it as repetitive or dull. Games like this required imagination and you really pictured yourself as a crazy flying ace buzzing through barns. So, if your a fan of modern flying games you really should go back and give this classic a try for a bit, just so you can truly appreciate how far we've come.
Feel free to send your feedback to SuperfriendEd@Gmail.com. Until next time, I'm Mr Eddie asking, "Have you played your Atari today?"

Ed is a jack of all trades; a master chef, a corny-joke teller, and Nintendo Game Master (kinda like Captain N). Ed contributes a number of columns to SuperfriendsUniverse.com such as his hugely popular food review column The Laidback Gourmet, the detailed Atari retrospective 2600 Reasons To Play, cartoon analysis on Should I Toon In?, as well as star in the video game review podcast Pixels and Bits.
Latest posts by Mr. Eddie (see all)