Daddy is writing his first column in ages. Even moreso than even Star Wars, I am SUPER highly anticipating the 2015 Dragon Ball Z theatrical film. 2 hours long, the biggest dick in the Universe is back, new costumes for Goku, the return of Beerus and Whis, Kuririn is bald again, and who knows what else; that movie poster's got me hard.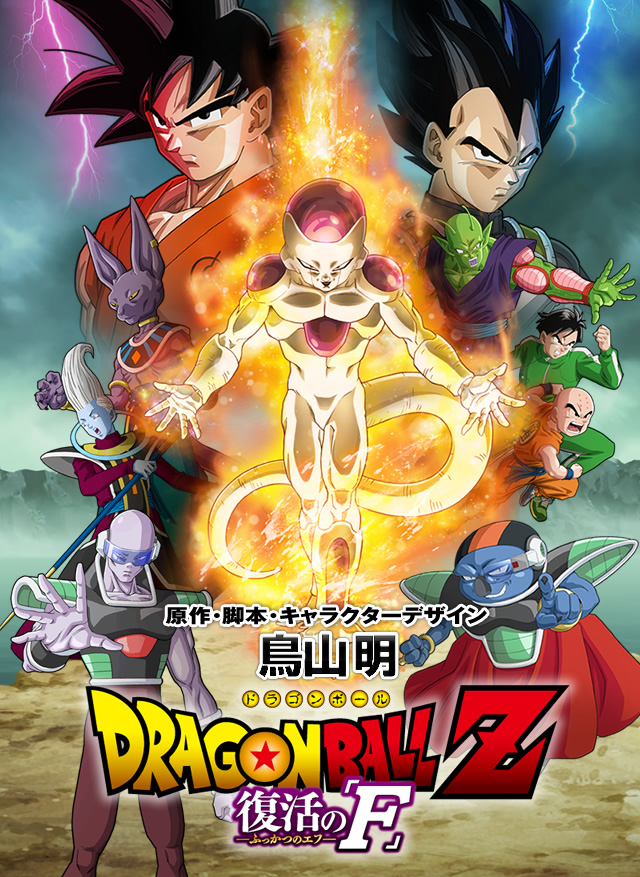 I am writing this under the impression that people are already aware of what is out there and IF YOU ARE NOT… go here. Also, if you have not seen Battle of Gods, this DOES contain spoilers for it… so please WATCH THAT FIRST… along with all other 291 Episodes of Dragon Ball Z… and hell, all of DB too.
#5 – Freeza ascends to Godhood, but how?
So we know that APPARENTLY Freeza's new henchmen, Sorbet and Tagoma, resurrect Freeza with the Dragon Balls. What IF… somehow… they manage to get Whis' staff away from him. Perhaps Whis' staff, which he DOES have in the poster, is what can grant somebody the God power and perhaps he gave this to Beerus way back when. He even offered it to Goku at the end of BOG. What IF they take the staff, like Loki and like Ursula from Little Mermaid, and THAT is how Freeza gets his power-up. Maybe Whos is eating sushi and being distracted while Goku and Beerus have their rematch from Battle of Gods?
#4 – Freeza vs. Beerus, and Beerus LOSES.
Once Freeza gets this power, Beerus is obviously the first to challenge him (perhaps he is away fighting Goku in a rematch when Whis gets his staff stolen and they are all distracted). Beerus will challenge Freeza and LOSE, because Whis is much stronger and therefore his staff does that to him. In classic Akira Toriyama booking philosophy, the new heel always stomps on the previous "strongest character". Look at how he books the Tenkai-ichi Budokais in Dragon Ball. Tenshinhan beats champion Jackie Chun in the semis of the the 22nd, Goku beats Tenshinhan in the semis of the 23rd, Nappa kills Piccolo who is killed by Vegeta who is beaten by Goku, etc etc. What better way to put heat on Freeza and establish him as a real threat than to have him job out Beerus. Everybody will be like "OH SHIT!"
#3 – Goku as Whis' or Beerus' student
Just judging by the costume and by what Beerus said to Goku during their fight in BOG, I could see some serious training going on for Goku to control and enhance his God power. Perhaps they believe Goku and Vegeta are the only ones who can stop God Freeza. Maybe… or perhaps Beerus and Whis don't fight and merely want to see action. Either way, there is NO WAY Freeza does not have a power up and its more than obvious that SOMEBODY is giving Freeza a power upgrade. So perhaps Goku needs training to master his God form, specially if Beerus gets taken down. Beerus DID put over how much of a prodigy Goku is. Perhaps they need him now to stop Freeza iin his God form. Perhaps THAT is the weird logo on his new gi.
#2 – New Villains
I find it strangely hard to believe that, barring some kind of ridiculous power-up, that Freeza and his two henchmen are the ONLY villains here. I mean I won't lie, I'm going to be pissed if they reveal that these two guys, who came up out of nowhere, are stronger than the Ginyu Force, specially considering they already jerked us around with the villains of the 2008 Jump Super Anime Tour special. But what if Freeza goes out into space and re-organizes his army for a full on invasion of Earth?? Now THAT would be something to see. Freeza fights off Goku and Vegeta while the rest of the Z Fighters have to take on the army to defend the Earth, thus giving them screentime and something to do.
#1 – Super Saiyajin God Vegeta
It almost has to happen. From the blue aura on the official web site, to the Toriyama interview where he said that not only was Vegeta growing on him as a character, but that he wanted to make him a stronger protagonist in this film.
WHAT IF… Freeza slaps Bulma, like Beerus did in BOG, then Trunks tries to defend her and ends up getting killed or seriously hurt. Freeza remembers what Trunks from the Future did to him in episode 120/121. He's probably gonna think Trunks from the present is the same guy and enjoy torturing and killing him (by the timeline of this film, he should be 16). What better way for Vegeta to go berserk AS a God and fuck some shit up? Granted they'll have to do the ceremony, but right afterward, he could become a stronger God. I also believe he might be the guy who finally kills Freeza when all is said and done.
Anyways, as the hype builds, I become more and more ready to get my ass kicked with this movie. Will it be a glorious creative success like Battle of Gods? Or will it be a plot-hole ridden mess bag like Dragon Ball Minus? We'll all know soon!
Big D has left his mark on the internet entertainment world with his various podcasts and appearances, including the Superfriends Variety Show, the wacky video game podcast Pixels & Bits, the retro-wrestling review podcast The Kayfabulous Lucha Bros Show, and the self-help, relationship, and psychology-themed Superfriends vs. The World. In addition, he runs the Geekdom101.com Youtube.