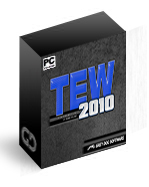 The following is an email interview I conducted with Adam Ryland, developer of the acclaimed pro wrestling booker sim Total Extreme Wrestling 2010, Adam's answers are in bold:


————


Chess: Thank you for taking the time to do this email style interview for Superfriends Universe, I hope by the end of it the fans know just a little more about not only yourself, but the Total Extreme Wrestling series as well. With that, lets get started!


Chess: Why did you start developing text based wrestling booker sims in the first place? What made you WANT to create the games?


Adam Ryland: The series originally began as a physical card game, created in the early 1990s. As it expanded, it became too complex to continue in that medium. As a result, it was computerised and the series grew from there. The original version was created simply because I was a wrestling fan and thought it'd be interesting to do.


Chess:Your first projects were absolutely free, when did you realize that you could make some real money out of this?


Adam Ryland: Shortly after I was an offered a contract to work professionally.


Chess: Did you receive any fan backlash for dumping the freeware format?


Adam Ryland: Yes, there was a severe backlash from people who believed they were entitled to continuing freeware games because they had "supported" the series by playing them. To this day, I do not follow the logic of their argument.


Chess: With the creation of TEW came the loss of being able to use real names, likenesses, and promotions. For those who don't know, TEW comes with a complete fantasy world, however this doesn't seem to turn many off from buying the game. What are your thoughts on the C-Verse and how would you respond to those who can't get into it?


Adam Ryland: The CornellVerse is a rich and detailed fantasy game world, loosely based on reality, that comes with all my games. For the most part, it is very popular, and it seems to be played as much (if not more) than real world scenarios. As with almost any product, there are some who cannot get into the default data – but equally, there are many who can't play real world versions either, so it evens out. There are a healthy number of "mods" (user-created scenarios) that simulate the real world anyway, so nobody is forced to play in a game world they don't like.


Chess: The latest version of your acclaimed wrestling booker sim, TEW 2010, came out earlier this year. Can you explain why every wrestling fan reading this should check out the game? Where is it available?


Adam Ryland: TEW2010 is available from www.GreyDogSoftware.com and is the fifth game in the series. It is available for PC, and can also be played on a Mac (using emulators). I think it is generally accepted to be the most detailed "booking sim" available; that is, a game in which you play as the owner \ match-maker for a company and it is clear that the matches are scripted with pre-determined winners and losers. There is a free demo that allows people to try before they buy.


Chess: I know it'll be hard to pick just one, but what is your favorite new feature in TEW2010?


Adam Ryland: I enjoyed creating the new morale system, which attempts to simulate the backstage atmosphere of a locker room and requires the player to carefully balance the different personalities involved.


Chess: What are some of the other games you've developed that are currently for sale?


Adam Ryland: My two other series are Wrestling Spirit, in which you play as a wrestler in a game world where pro wrestling is treated as being real, and World of Mixed Martial Arts, which does for MMA what TEW does for wrestling.


Chess: Many fans have suggested online multiplayer for a future TEW release, is this at all possible and have you considered it?


Adam Ryland: It is not currently a viable feature.


Chess: What are your plans for the future, TEW related or not?


Adam Ryland: My next product will be World of Mixed Martial Arts III, which will be coming out shortly before Christmas, again from www.GreyDogSoftware.com.


Chess: Any last words or plugs you'd like to give out?


Adam Ryland: No, thank you. Thanks for taking the time to interview me.