Busy weekend for yours truly – this is the first time in a long while (probably in the last six months or so) where I was actually able to pull off seeing TWO movies in one weekend. How about that, eh? And it only gets better – I already have plans this Friday night to see Green Lantern, so make that THREE films in one week. Not too shabby, if I may say so.


But I'll save the Green Lantern and DC Comics chatter for this weekend. Right now, it's all about X-Men and Marvel, and I figured I'd start my pair of reviews with the film that I saw SECOND, not for any particular reason, mainly because it came out before the other film (Super 8) did, so I decided that I'd post this one first. Plus, what do X-Men: First Class and Super 8 have in common? There are already great reviews for these films that can be found on this site (FK99 did X-Men, while Adolfo tackled Super 8). Then again, you know what they say – it's never official unless I, SportsGuy515, review it (hahaha, just kidding).


SO, without further adieu, let's get on with my take on X-Men: First Class…





Basic Non-Spoiler Plot Summary: The film, set in 1962, focuses on the relationship between Charles Xavier/Professor X (played by James McAvoy) and Erik Lensherr/Magneto (played by Michael Fassbender) – how they meet, become best friends, and ultimately grow apart and form their respective groups, the X-Men and the Brotherhood of Mutants.


The Pros: I'll be the first to admit this – I'm not an X-Men fan, in terms of reading the comics, knowing the history, etc (I've probably read more SIMPSONS comics than I have X-Men). I did watch some episodes of the animated series when it aired back in the day on Saturdays (they always used to come on late-morning, around 11am, so I would be awake by then to catch it). But other than that, I really didn't care much for the X-Men until the movies started coming out. But man, after that, I was hooked.






Which is why I may be in the minority here when I say that the "changes" from the comic book that were made to the plot of X-Men: First Class don't bother me – although from what I've been reading/hearing, a lot of people seem okay with the changes since the movie itself a.) wasn't a total crapfest, and b.) as FK put it, "didn't completely rape the source material." Plus, I'm the type of guy that, whenever a subject peaks my interest, I'll look up as many articles on it on the Web as I can (Wikipedia included). After seeing X-Men: First Class, I spent a good 3-4 hours just reading up on the history of X-Men. No joke. After listening to Big D's Superfriends episodes on the Illuminati, I read countless articles on the subject. When I get interested in something, I have the potential to stay up all night reading about it.


But enough about me – back to the film. Plot-wise, I thought it was captivating all throughout, which kept me interested in the film and its characters as it progressed. The pacing of the film was great – the beginning gives motive to Magneto's future actions and aspirations – to the point where you find yourself agreeing with (or, at the very least, understanding) everything Magneto does from that point forward, no matter how sinister or evil in purpose. That, my friends, is the mark of not only great storytelling, but great character development. All of a sudden, the lines separating good and evil have been blurred.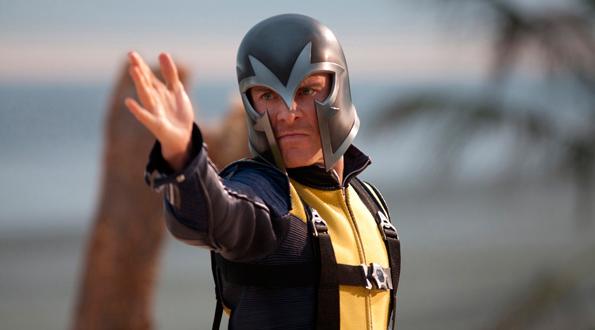 Acting-wise, this was certainly an above-average film, especially considering the trash that we were exposed to in X-Men: The Last Stand and X-Men Origins: Wolverine. James McAvoy (who I really enjoyed in Wanted) and Michael Fassbender steal the show with their great reactions and perfect deliveries. Other standouts include Jennifer Lawrence, coming off her Oscar-nominated performance in Winter's Bone as Raven/Mystique, KEVIN BACON as Sebastian Shaw, Oliver Platt as "the Man in Black," and ROSE BYRNE (whom I developed a crush on when I saw her in Bridesmaids) as Moira MacTaggert, and she's looking as fine as ever. Like I said in my Bridesmaids review, I could use some more Rose Byrne in my life…


The Cons: Everyone else's acting in the film was tolerable, except for ONE PERSON. January Jones (as Emma Frost) gave possibly one of the most WOODEN performances I have ever seen! She would make the horniest guy in the world go limp within seconds just by the sound of her voice in this film; which is funny, considering that the character of Emma Frost is supposed to be the seductive "White Queen" of the Hellfire Club. Now granted, if it was all based on looks, and she didn't have any lines whatsoever, then I wouldn't have any problems with January Jones in the role – she is a hot piece of ass, after all. Don't believe me? See for yourself…and tell me you wouldn't tap that.






Sadly, though, her role requires her to actually, you know, ACT…


Finally, the ending of the film seemed a bit anti-climatic for me. Yeah, the buildup was great, and the payoff was what I was expecting (and perfectly executed by the actors, I might add). However, I just felt that we were just getting to know Charles Xavier and Erik Lensherr as friends – and now, all of a sudden, it was over. Maybe they were friends for a lot longer time than the film was letting on (after all, movies can't show EVERYTHING), but in that moment, I felt that we were just scratching the surface on their friendship, only for it to abruptly end the way it did. It's not so much a Con as it is more of a disappointment.


Conclusion: X-Men: First Class is a nice breath of fresh air from the last two X-Men films, and a welcome addition to the franchise. There's a nice mix of great storytelling, action, and some terrific acting (though sadly not by everybody…GRRR). In fact, I would go out on a limb and call this movie the summer's first all-around "popcorn flick." After all, it does have all the necessary ingredients to make a great summer movie, and it executes them to perfection. While not completely faithful to the source material, I feel die-hard X-Men fans will still find the movie enjoyable based on the filmmakers leaving the core of the source intact, as well as the compelling plot and action. Want to know the definition of a summer movie? It's X-Men: First Class. Recommended for Adults, Teens, Pre-Teens, and ALL X-Men fans.








FINAL SCORE: **** ½ (4.5/5)




And that'll do it. As always, any questions, comments, or feedback in general, send an email to sportsguy515@aol.com, or simply leave a comment in the comments section below.


Tomorrow, I'll have my second review of my 2-review punch from last weekend (and the first film of the 2 that I actually saw), J.J. Abrams's Super 8!




Until next time, I'm out!
Cinephile extraordinaire, a budding filmmaker, and host of Forced Perspective. A resident of NY/NJ, he spends most of his time looking for new movies to watch and learning the craft of filmmaking. You've probably also seen him hanging around Madison Square Garden and Yankee Stadium at some point. If you see him approach your movie theater, be sure to let him in – he's the guy in the Yankees cap!
Latest posts by SportsGuy515 (see all)